Bhavans Sports Camp
LAYING STRONG ACADEMIC FOUNDATION & BEYOND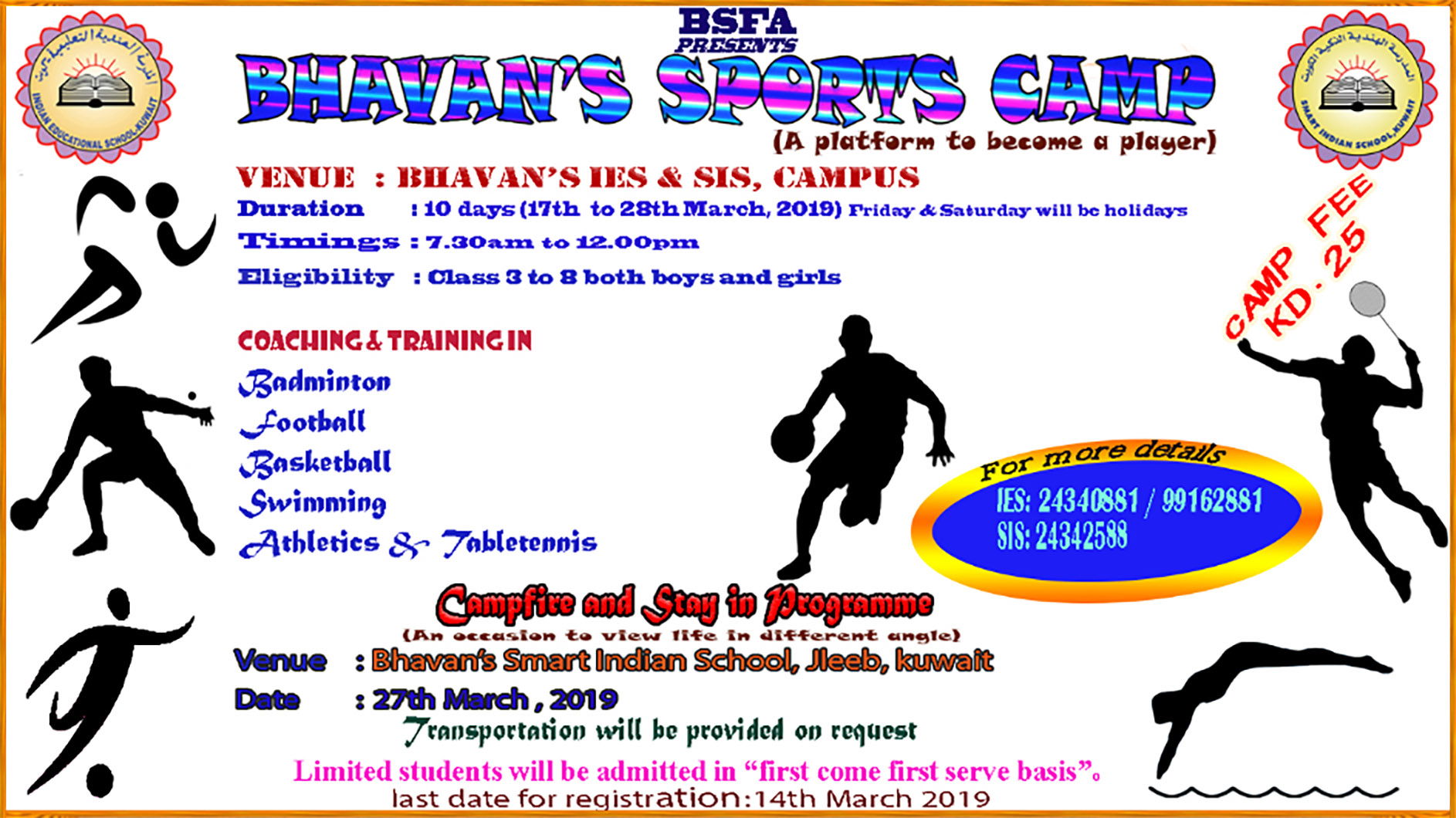 BHAVAN'S SPORTS CAMP 2019
Bhavan's sports camp has been organized successfully for the last 4 years and it has received tremendous response from the students and parents. The purpose of the previous sports camp was to identify the hidden sports talent among the kids but this year specific sports training and coaching will be given to build our future teams of various sports and games.
COACHING AND TRAINING IN… 
BASKETBALL
BADMINTON
 SWIMMING
 FOOTBALL
 ATHLETICS
VOLLEYBALL
RULES AND REGULATIONS
Every camper is required to be committed and follow the camp schedule.
Every camper should come in proper sports attire (Track suit/ T-Shirt & shorts with sports shoes)
No one will be absent from an activity without a valid reason.
Foul or inappropriate language will not be tolerated from campers. Campers should respect others and their belongings. They should listen and be respectful to all coaches and other campers
Electronic devices (i.e.: cell phones, mp3s, psp, iPods) and all magazines are not permitted in camp & will be confiscated.
Swimsuits, Badminton rackets, Football should be carried as per the schedule.
For everyone's safety, no physical play is allowed at the camp.
Please make sure to bring sufficient juices & water. A water cooler will be available.
Damages to camp property and the property of others will leads to penalty.
No throwing trash on the play area or corridor.
No costly Jewelry is permitted.
Please label all of your belongings this includes all sports equipment that you bring.
Campers are to attend all instructional sessions, team practices and team games on time.
Always the camper should be with their team and coach when moving from one activity to the next.
Failure to abide by the camp regulations will result in dismissal from the camp.